Grade 3 Ecology Programs – Northeast Swale
Explore Nature in the City! The Grade 3 Program at the Northeast Swale is a half-day of learning in a unique prairie wetland habitat. This program includes a nature hike in the ecological core of the Northeast Swale and features the exploration of ecosystem connections, identification of grassland plants and wildlife, nature mindfulness, and discussions of Indigenous Worldviews and treaty relationships as well as other place-based learnings.
These half-day programs (9:30 am – 11:30 am OR 12:30 pm – 2:30 pm) are offered in spring (May & June) and fall (September & October).
Learn more about the Northeast Swale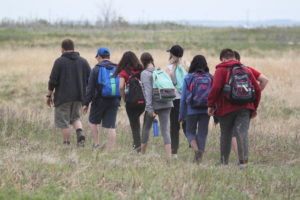 Grade 5 Ecology Programs – Beaver Creek Conservation Area
Beaver Creek Ecology programs include a full day of learning out in nature! You and your students will learn about and observe spring/fall migration, and mating and nesting behaviors of common birds at Beaver Creek with a special focus on the resident Black-capped Chickadee. This program also explores the impacts of weather systems on plants and animals, sustainable grassland management, medicinal plant uses, keystone species, predator-prey relationships, and the importance of citizen science.
These full-day programs (10:00 am – 2:30 pm) are offered each spring (April – June) and fall (September – November). We are grateful to SaskPower for their support of Meewasin's educational programming.
Ages 10 -13 – Yellow Fish Road™ & Sanitary Sewer Program
Sign up to be a Water Warrior and take action to protect our river! The Yellow Fish Road™ program educates students that storm drains are the doorways to our rivers, lakes and streams and anything other than rainwater can harm life in and around the water! This program shows students how they can be part of keeping our stormwater healthy to ensure a safe water source for them and everyone downstream as well. Participants learn about the impact of pollution and what steps they can take to protect their local water, then they can take action by painting yellow fish symbols with the words 'Rain Only' by storm drains and distributing informative fish-shaped brochures to nearby households reminding people that 'Only Rain Goes Down the Drain'.
With the support from the City of Saskatoon, we will also take a look at the Sanitary Sewer System, to learn the difference between this system and the Storm Drain System and the consequences of our daily actions. Students will learn a brief history of water sanitation, have an interactive discussion on how the sanitary sewer system works, and learn how they can make a positive difference to the health of our sanitary sewer system and river!  
FOR INFORMATION ON THIS PROGRAM please contact our Interpretive Programs Coordinator: jharder@meewasin.com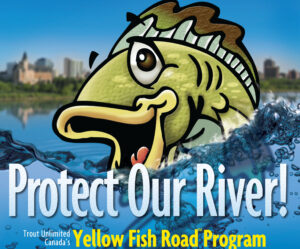 Grade 5 Cross-Country Ski Program – Beaver Creek Conservation Area
In this full-day program, students have an opportunity to feed the resident Black-capped Chickadees at Beaver Creek and to learn about winter adaptations, the importance of snow as habitat, and animal tracks on the open prairie. Students are introduced to cross-country skiing through a short lesson, followed by a 60 – 90 minute ski on the upland prairie with stunning views of the South Saskatchewan River Valley.
This ski trail is both fun and accessible for all skill levels! This full-day program (10:00 am – 2:30 pm) is offered in winter (January – March).
Learn more about Beaver Creek Conservation Area
QUESTIONS? For questions related to programming/facilities please contact our Interpretive Team at 306-374-2474.
HOW DO I BOOK A PROGRAM (SPS/GSCS)?
Meewasin provides information about available programs (including how to submit a program request) to the school divisions to distribute to teachers in September (fall programs), December (winter programs) & March (spring programs).
HOW MANY PROGRAMS ARE AVAILABLE?
Depends on the site, season and length of program. We typically try to offer programming on Wednesdays, Thursday and Fridays. Due to high demand, Meewasin is working with the school divisions to ensure equitable access to these programs. Preference may be given to schools that did not participate in a program in the previous school year.
DOES MY DIVISION PROVDE SUPPORT FOR THESE PROGRAMS?
For questions related to division financial support and bus bookings please contact:
Saskatoon Public Schools SSSAD, Athletics and Out of School Education P: 306.683.8273
Greater Saskatoon Catholic Schools Coordinator of Learning Services P: 306.659.7075
DO I BOOK MY BUS FOR THESE PROGRAMS?
Meewasin does not coordinate transportation arrangements. For questions related to bus bookings please, contact your school division as noted above.
WHAT IF I'M NOT WITH THESE SCHOOL DIVISIONS OR AM INTERESTED IN PROGRAMMING FOR A DIFFERENT GRADE-LEVEL OR GROUP?
Meewasin's guided program offerings are currently limited due to the pandemic, however, we are assessing interest to help us plan for future programming. To inquire about a program, please contact the Interpretive Team at 306-374-2474 (Wednesday through Sunday from 9:00 am – 4:00 pm).