There are innumerable dedications throughout the Meewasin Valley, each one of them with their own special, amazing stories behind them. Here are a few of those stories.
During the pandemic, Frances has recognized the essential part that Meewasin has played in her own mental health, and aims to give back by raising funds for both Meewasin & the Canadian Mental Health Association, Saskatoon.
Donate
Since 2001, the Gladys Hall Fund has granted over $99,000 to Saskatoon charitable work, providing the charities she selected with a sustained source of income that continues forever.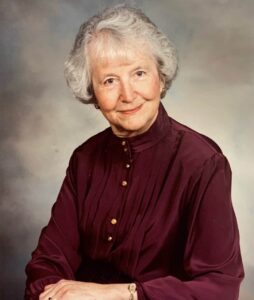 An independent woman, Gladys was determined to save and invest her earnings wisely, providing for herself without family for support. She made a point of regularly setting aside a small amount of money for investment, ensuring she could continue to live comfortably in her retirement. Bit by bit her investment grew, and she relied on professional financial planners for sound advice to manage her nest egg. With her sensible and community-minded outlook, it was only natural for Gladys to look outward to community needs once she had achieved her personal goal of financial independence.
Gladys Hall was respected and cherished member of the community. Her tireless work benefited a number of charities, including CNIB, Autism Services, the Western Development Museum, Ronald McDonald House, YWCA Saskatoon, Saskatoon Interval House, and Meewasin.
After Gladys passed away in October 2017, plans to memorialize her began. Since she loved spending time in the Meewasin Valley, a bench has been placed and dedicated to her on Spadina Crescent between 22nd and 23rd Streets.
Read the full story
Through Meewasin's established Dedication Program, we are able to offer numerous ways in which our donors can remember and honor their loved ones through the sponsorship of benches, bricks, and trees.
At Meewasin, we also listen to our donors and work with them to help create individualized memorials. When Dean Sproat expressed a wish to remember his beloved late wife Diana, an avid marathon runner who loved the trails, we suggested a new digital trail counter never before seen in Saskatoon.
The trail counter was placed in River Landing in the Spring of 2021, counting both daily and yearly walkers and bikers. With a photo and quote from Diana, it stands beautifully for trail visitors to see, while at the same time representing Diana's love for the community and trails.
Additionally, the Sproat family were kind enough to share a few words about Diana and her love of running the Meewasin Trail.
Diana loved to Run.

She spent every Saturday morning religiously navigating the running trails that construct Meewasin Valley. Regardless of the weather: sun, rain, blizzard, or hurricane, Diana and her running group, the "Trail Trippers" ran here. Running was one of Diana's biggest passions. She ran 13 full marathons. Over the many years of running and training, Diana made countless lifelong friends, taught her daughter how to run, fundraised thousands of dollars for diabetes and rheumatoid arthritis, and travelled the world for races accompanied by her biggest fan, her husband Dean.

Diana always said that running was her therapy. Her love of and need for it intensified when she tragically lost her 17 year old son Justin in 2005. She shared that during those moments of her run wherein the climb was too high, the distance too long, or her legs too tired, she would get a sensation at the base of her neck. She believed that this pressure was Justin pushing and encouraging her to keep on going, so she did. Running became a place that she spent time with Justin.

In June of 2017, Diana was out for her regular Saturday run by the river. At about 13km into her run, she started having stroke like symptoms. She was rushed to RUH emergency where they completed a CT scan. The results of that CT scan were unexpected and devastating. The doctors saw a lesion in her brain. They admitted her to neurosurgery that afternoon and a few weeks later diagnosed her with Glioblastoma, a stage 4 terminal primary brain tumor. This was the same brain cancer that very publicly took the lives of Senator John McCain and Gord Downey.

Diana didn't run again after that Saturday in June. Glioblastoma slowly robbed her of her ability to run and then to walk. The Trail Trippers added ribbons of prayers to the riverside trails and ended their runs at Diana's home instead of the Mendel while she was sick. They planned to run the Saskatoon Marathon while pushing Diana's wheelchair so Diana could complete the 14th marathon she had trained for but unfortunately wasn't healthy enough to participate in.

Diana underwent two rounds of radiation, 13 rounds of chemo, and two brain surgeries in her 26 month battle against Glioblastoma. She took part in two brain tumor walks in the Meewasin Valley, where the "Doing it for Diana" team raised over $26,000 for brain cancer research. Diana's battle against terminal cancer was her final marathon. It proved to be the marathon that was longest in distance, had the highest hills, and was ultimately the greatest test of endurance. She gave it everything she had and obliterated the odds. Her courage and strength inspired us all.

Diana's battle against brain cancer ended September 2, 2019 at the age of 57. Her death left such a huge void in the lives of many. She was a wife of 36 years. A mother. A grandmother of two grandchildren who were her pride and joy. A daughter and sister. A friend. She was a math consultant with the Saskatoon Greater Catholic School system and a beloved teacher of many.

Diana impacted so many with her strength, positive outlook, perseverance and hope. We couldn't think of a better place to honor her memory than in the Meewasin Valley.