Beaver Creek Conservation Area
View on the Meewasin map
Please see Hours of Operation below before planning your visit.
A microcosm of the Meewasin Valley, Beaver Creek Conservation Area (BCCA) it is located where a prairie creek meets a prairie river.  BCCA contains remnant sandhills prairie complexes which provide a unique habitat for grassland birds, wildflowers and home for numerous species at risk including the sand-dune reliant Smooth Goosefoot, and the ground nesting Common Nighthawk. The beavers that live there play an important role in keeping the creek habitat teeming with wildlife.  Beavers build dams that flood waters upstream, creating beaver ponds.  Many plants and animals make their homes in these sheltered ponds. The interpretive centre and staff provide opportunities to discover nature during all four seasons along a selection of nature trails.
*Please note that no dogs are allowed at this site.
Beaver Creek Conservation Area offers the general public and schools opportunities to discover the wonders of nature. Hands-on activities in the Interpretive Centre give children the opportunity to learn more about Saskatchewan's wildlife. Their experience is enhanced through creative play such as the puppet theater, and the SaskEnergy Beaver Pond. A selection of four nature trails are 
available year-round for all ages to enjoy. Please visit the Meewasin Events Calendar for information on upcoming events and programs at Beaver Creek Conservation Area.
Group Programs by Request: Beaver Creek Conservation Area is pleased to offer a variety of year-round nature programs to organized groups upon request. Please visit the education page for program details.
For more information call 306-374-2474 
Hours of Operation
Please note that, for your safety:
No site access (vehicle or foot) is permitted outside of the hours of operation.
Beaver Creek will close if temperatures reach -30

°C with or without windchill. 
December & January
January – April 2020
Tuesday – Friday 9am to 5pm
Saturday – Sunday 12pm to 5pm
Mondays CLOSED
Please Note
Site is open all statutory holidays except for Christmas Day (but not open on Monday statutory holidays)
Statutory holiday hours, site is open 12 pm to 5 pm (this includes Good Friday)
Other Foreseen Closures:
CLOSED December 10 2019 for a staff meeting
Directions
Beaver Creek Conservation Area is located approximately 13 km south of Saskatoon. Starting at Lorne Avenue, take Highway #219 south of Saskatoon. After about 12 km you will see a sign Beaver Creek East, do not turn here, continue past this sign about 1 km to a sign on the right reading "Beaver Creek Conservation Area." Turn right (west) and follow the winding road to the parking lot.
History
Located 13 km south of Saskatoon off Highway #219, BCCA was established in 1979.  An interpretive centre opened in 1984.  Beaver Creek Conservation Area runs from the Brightwater Marsh area to the South Saskatchewan River 90 km away. When meandering is taken into account, the length of the creek is more than 270 km. Habitation and kill sites found at Beaver Creek indicate the area has been occupied for more than 5,000 years. One of a small number of uncultivated short-grass prairie areas preserved in Saskatchewan, the current site has been used as a nature park since 1913.
Meewasin Northeast Swale
View on the Meewasin map
The Meewasin Northeast Swale is an ancient river channel that begins at Peturrson's Ravine and carves a 26 km long path adjacent to the South Saskatchewan River. The Meewasin Northeast Swale contains considerable areas of native prairie grasslands and offers high quality biodiversity, proximity to urban areas, economic benefits for recreation and education and a natural filter for our
air and water. The swale contains wetlands that provide a means of flood control for the surrounding community.
The site is open from sunrise to sunset.
Click here for a location map of the Meewasin Northeast Swale.
The greater swale has signs of human habitation and use over the past several centuries, including a remnant section of the Moose Woods – Batoche Trail, Middleton's staging camp on the trek to the Battle of Batoche, the site of the telegraph line that linked North America to Europe by way of Russia, the site of the old town of Clarkboro and tipi rings from the encampments of the original residents of the Saskatoon area. More recent archeological remains are the lime kilns near the swale and the holes left by the movement of large limestones used to build the University of Saskatchewan.
PETS are not permitted in the ecological core of the Swale but are permitted in the recreation zone on leash. Please pay attention to signage on site. Below is a map that shows the two areas. 
Cranberry Flats Conservation Area
View on the Meewasin map
Cranberry Flats is located just outside the City of Saskatoon and is a scenic area with large sandy beaches and a wheelchair accessible trail leading to a valley lookout.  This is a popular spot for families. Dogs are allowed but must be on leash. Fines will be issued for dogs off leash and contravention of site hours.
The site is open from sunrise to sunset to enjoy the sun and sand.
Head south on Lorne Avenue (Highway 219). Turn right onto Grasswood Road (Road 360). At the first intersection, turn left onto Strathcona Avenue (Road 3055). The parking lot is about 2.75 km from the intersection on the right.
For more information please call 306-665-6887.
Wilson (Shepley) Island, South Saskatchewan River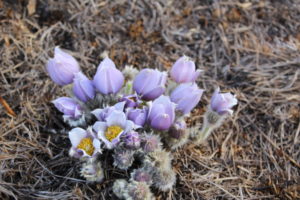 Wilson (Shepley Island) is a small island in the South Saskatchewan River south of the city of Saskatoon, Saskatchewan, Canada. This island is protected by the Meewasin Valley Authority. The island is not accessible but can be seen from a lookout point at Cranberry Flats.  Wilson Island (then known as Shepley Island) from 1943 to 1951 was home to a sea cadet camp under the command of Lieutenant P.K. Wilton.
Saskatoon Natural Grasslands
View on the Meewasin map
The Saskatoon Natural Grasslands (SNG) is a 34 acre (13.8 hectare) parcel of native Saskatchewan grassland persisting in a surprisingly natural condition.  It lies within the area known as Silverspring (located in the northeast sector of Saskatoon, 8 kilometres from the city centre along the South Saskatchewan River).  This fescue grassland is not just grass, but an ecosystem – a complex association of grasses, flowering and non-flowering plants, birds, animals and insects representing 10,000 years of natural history since the glaciers receded.
The site is open from sunrise to sunset.
Cameco Meewasin Skating Rink @Nutrien Plaza
View on the Meewasin map

Located in beautiful Kiwanis Memorial Park along Spadina Crescent next to the Delta Bessborough Hotel, the iconic Cameco Meewasin Skating Rink @NutrienPlaza features a warm up shelter, washrooms and limited skate rentals available by donation.Open mid December to mid March: Monday to Sunday 12:00 p.m. – 9:00 p.m.
CLOSED for the season! 
Thank you so much to everyone who joined us to skate in the 2018/19 season!
Skating and skate rentals are by donation
Donations of gently used skates are graciously accepted at our office at 402 Third Avenue South or at the rink during skating hours.
Frequently Asked Questions
When does the rink open?
This varies from year to year and is completely weather dependent. Three to five cm of snow and an extended period of cold weather are needed to make ice. The rink does not typically open for skating until mid to late December.
When are the skating parties going to be held?
Skating parties for the 2019/2020 season will be:
December 18th 2019– Tim Hortons Twinkle lights Party: 5:00PM-9:00PM
December 31st 2019 – Meewasin New Year's Eve Skating Party: 5:00PM-9:00PM
January 25th 2020 – Nutrien Wintershines Skating Party: 12:00PM-4:00PM
February 17th 2020 – Cameco Family Day Skating Party: 12:00PM-4:00PM
Are hockey sticks and pucks allowed at the rink?
No, hockey sticks and pucks are never allowed.
Does the rink get closed for any reason?

Yes, the rink will close if the temperature dips below -31 degrees celsius or equivalent wind chill. Also, prolonged temperatures above 0 degrees Celsius can lead to melting and ponding conditions that may require a closure.
Can we skate on the ice outside of regular rink operating hours?
We cannot guarantee ice availability outside of our regular hours as rink staff perform work that can impact availability. In addition, groups are often booked to use the ice outside of our standard public skate hours. If no maintenance or group booking is underway, and you bring your own skates, you may be able to use the ice (please check with rink staff if they are on site or call 306-229-8827).

Is there an admission charge?
No, the rink is free to the public. Donations are welcome and appreciated. There is a donation box in the skaters' lodge.
Are there skates available to borrow? And what is the cost?
Yes, there are skates available to borrow. We have skates in a variety of sizes. There is no cost to borrow skates – it is by donation only.
Does Meewasin accept donations of skates?
Yes, we accept donations of skates in every size and style. Donations of skates can be dropped off at the rink or administration office located at 402 Third Avenue South.
Is it possible to book a group function at the rink?
Yes, group functions are welcomed, however please contact 306-229-8827 to book. Bookings will not begin until the skating rink is operational.
Can the entire rink be booked for a private event?
Only outside of public skating hours. The rink is always available to the public during public skating hours.
Who is the contact person for the rink?
Please contact the rink attendants directly at 306-229-8827 for further information during the skating season. During the off-season please contact the Adminstration office at 306-665-6887.
Are there washrooms at this site?
Yes there is an accessible, public washroom facility adjacent to the rink, operated by the City of Saskatoon.
Sponsored by:
Meewasin's River Landing Water Spray Feature
View on the Meewasin map
Have you ever wondered what it would be like to walk from Saskatoon to Edmonton?  Well now you can, and it will only take you a few short minutes.  Count your steps – every step you take is approximately 100 km.  Measure your way across the Prairies…or explore your way across, discovering treasures, the routes of the rivers, the old fort trails, the geological formations, the mineral resources and the flora and fauna that make us in the Saskatchewan River Basin unique.
In the River Landing water spray feature you can find water bodies, cities, forts, borders, animal tracks, footprints and various embedded shapes. The area is ideal for parents and care givers as they educate their children about the river basin providing descriptions of the embedded features. It is a model of the 420,000 square kilometers of the Saskatchewan River Basin that spans three
Canadian provinces and one American state.  Its themes are based on the geography and hydrology of the basin as well as its people, its wetlands, its wildlife and its history.
A Walk Along the River – Saskatchewan River Basin Water Spray Feature map
Opened in the summer of 2009 as part of the Meewasin Riverfront at River Landing development, the Saskatchewan River Basin Water Spray Feature is a Meewasin creation made possible through the support of the City of Saskatoon, the Government of Saskatchewan, the Government of Canada and corporate donors and public donation.
The Saskatchewan River Basin and its tributaries are essential to the well being of Saskatoon and area.  The waterways provide water for our industries, for agriculture (millions of hectares of farmland and pastureland) and for drinking water (for more than three million people).  They are also used for recreation and to generate electricity.
Crocus Prairie
View on the Meewasin map
Located north of the Regional Psychiatric Centre on Central Avenue, the Crocus Prairie, informally named for the beautiful native crocuses found there, is a very ecologically sensitive site. The parking lot off Central Avenue marks a trail head that meanders south along the top of the riverbank towards Sutherland Beach. Please respect the land and refrain from picking wildflowers.
North of Crocus Prairie is Petturson's Ravine. Restored after many years of pollution and abuse, this unique bog is now an environmental success story.
NOTE: Petturson's Ravine is on private land and is not open to the public.
The Great Trail
In 1992, visionaries had a dream to connect Canada and its people with a multi-use
trail. Today, The Great Trail stretches almost 24,000 km across Canada from coast to coast, linking over 1000 communities and over 33 million Canadians. It is the largest trail system in the world and runs along 20 km of the Meewasin Trail through Saskatoon.
The Great Trail enters Saskatoon from the north parallel with Wanuskewin Road, jogging over to start following the river's western shore by the Silverwood Golf Course. From there it continues south through Meewasin Park, eventually reaching the Kinsmen Park area. It continues from there through the downtown core and River Landing. Here it crosses the river over to the east side at the Senator Sid Buckwold Bridge and enters Rotary Park. It heads south through Gabriel Dumont Park, where The Great Trail pavilion showcases more than 4000 names in support of this great legacy. It then crosses Diefenbaker Park and then out of city limits, finishing its Meewasin leg at Chief Whitecap Park.
Wanuskewin Heritage Park
View on the Meewasin map
One of Meewasin's proudest accomplishments is the development of Wanuskewin Heritage Park. Their Visitor Centre is the gateway to the incredibly beautiful unspoiled natural prairie landscape with 360 acres of scenic trails, interpretive sites, archeological digs, fauna, flora and herbs. Learn the stories and lifestyles of the Northern Plains Indigenous peoples who have gathered at this one meeting place for over 6,000 years. Experience Northern Plains culture through hands-on demonstrations and events, traditional cuisine, art galleries, gift shop, indoor and outdoor activities, and overnight Tipi Sleepover programs. For more information please visit their website.
In 1983, in conjunction with its participating parties, Meewasin contributed in purchasing the land to begin development for what is now an award winning National Historic Site that depicts the history of Northern Plains Indigenous Peoples. Wanuskewin is currently undergoing a large revitalization project, and has been named to Canada's Tentative List for UNESCO World Heritage Sites. The Park was opened in 1993 with the help of various groups and all levels of local government. Wanuskewin Heritage Park is now under its own board of directors.
I
Other Locations